Sally Raptor: Halfway Home
a love story
As documented elsewhere, Sally Raptor was the second Sim that I created, and I made her Romance pretty much without knowing what I was getting into. Since she's just recently attained a significant milestone toward her life's ambition I thought this would be a good time for a bit of a retrospective on her life (and particularly on her loves).
She showed her Romance colors at once, by wanting to kiss and make out and fall in love and all like that there. The fact that her female neighbors were about eighty-leven times as attractive as her male neighbors (in my completely unbiased opinion) meant that she ended up with some very close lady friends to start with.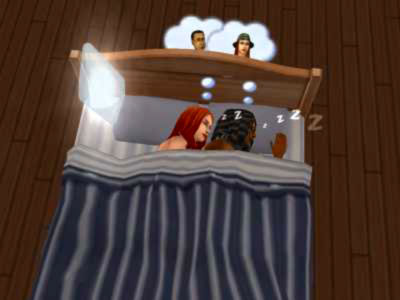 Sally's first love: Ivy Copur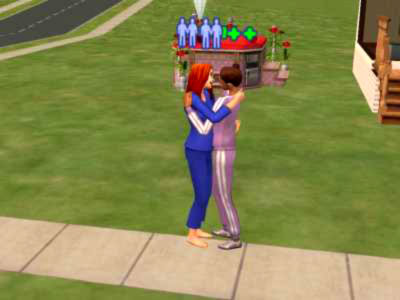 And her second love: Christy Stratton
Sally burned dinner badly enough to start a fire one night, and the fireman turned out to be a very nice man.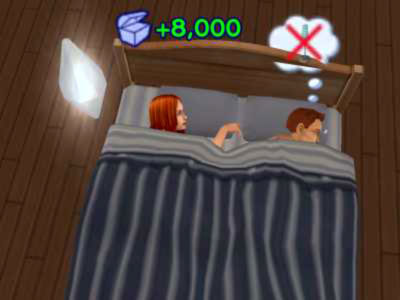 Third time lucky: Mitch Lawson
Andrea Hogan, another sweet local woman, completed the quadrumvirate that kept Sally happy for a nice long stretch of Sim time, as her daughters grew up and she reached the top of her profession.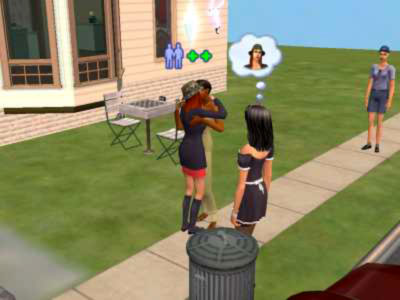 Sally's fourth love: Andrea Hogan
Time passed. Sally's daughter Eleanor fell in love with Kaylynn the maid, who moved in and then later moved out. Sally and Kaylynn were good friends while Kaylynn was living in the house; after she moved out she came back often to visit, and they became more than friends.