George, the Diva, and Mr. Big
The end of George's college career was alot like the middle.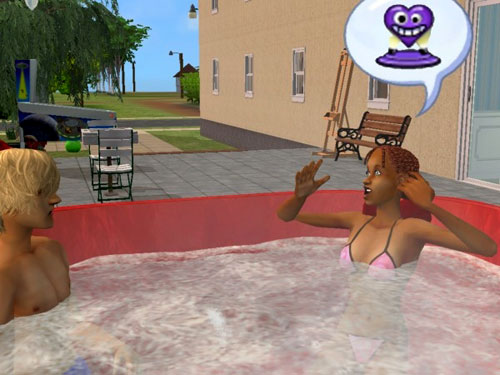 Hanging around in the hot tub with Sheila.
Eventually it was time for that final final.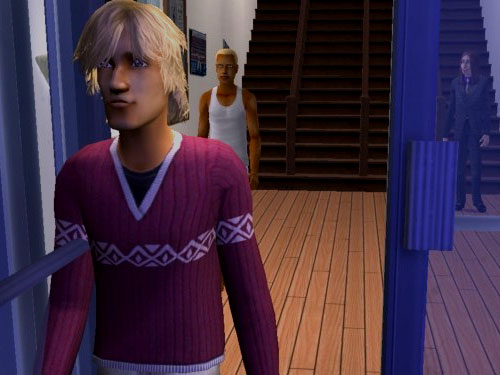 Off into the dusk.
He got back from that final final at the same time that Gabriel got back from his own Sophomore or something final (which he'd attended in his underdrawers).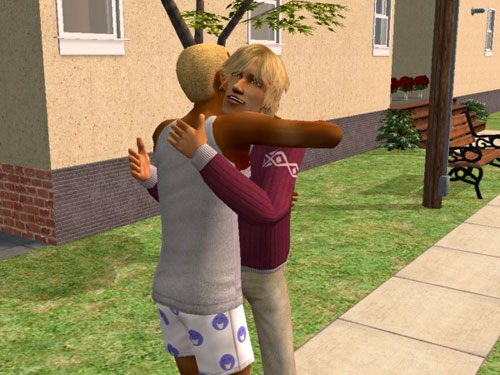 A congratulatory hug
After one last campus Dream Date with Sheila...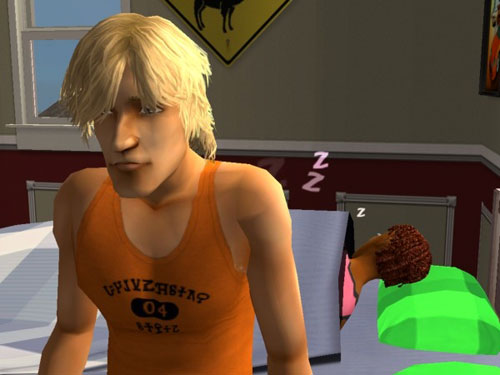 Still wondering what role she'll play in his future
...he got up and called the taxi.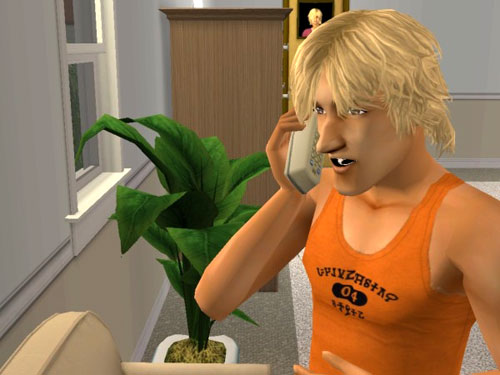 No party for George.
"You've just graduated from SSU, George! Now what are you going to do?"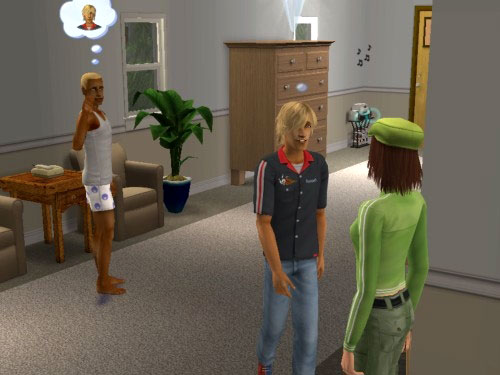 "I'm going bowling!"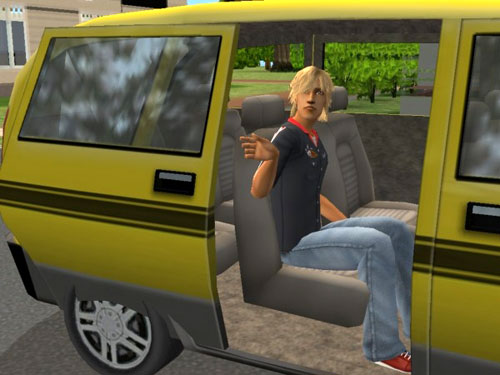 Back to the neighborhood.
All by itself at the end of the ridge road above Neighborhood One stands an old hovel, long abandoned and recently fixed up (a bit) by an upstart realty company.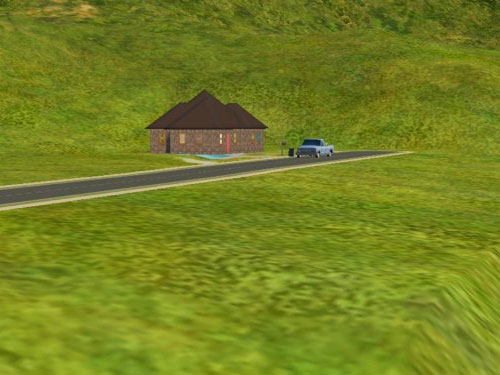 All by itself.
Admittedly, it has a great view.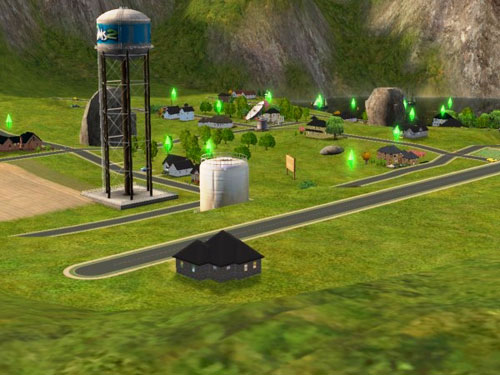 At least on clear days.
Just out of SSU, with no family or other connections beyond dorm-mates and people he met in his teenage cashiering years, and with minimal savings, George figured it'd be a frugal first house.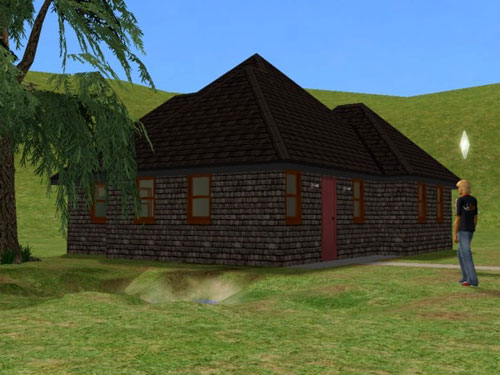 Just until the money starts rolling in.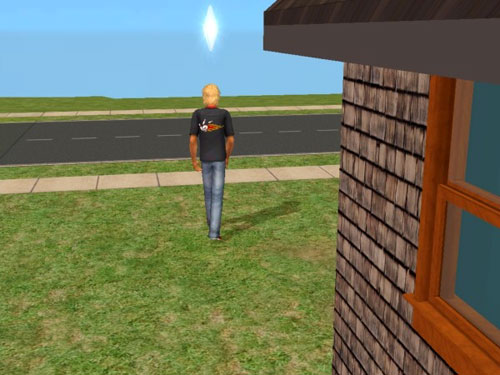 The view was somewhat disappointing.
And the interior left a bit to be desired.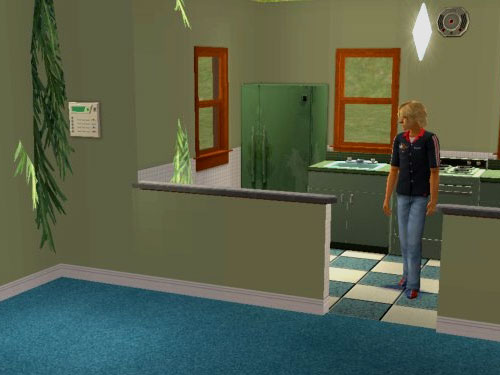 "Hm, filthy refrigerator, plants growing out of the walls..."
But it's just temporary, George is sure...
As it turned out, the ridge road isn't all that far from town, and George had more guests than he'd expected.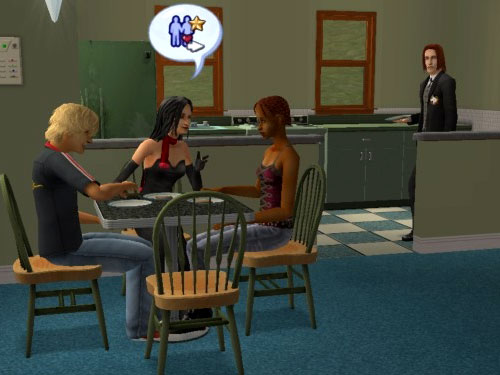 An afternoon party.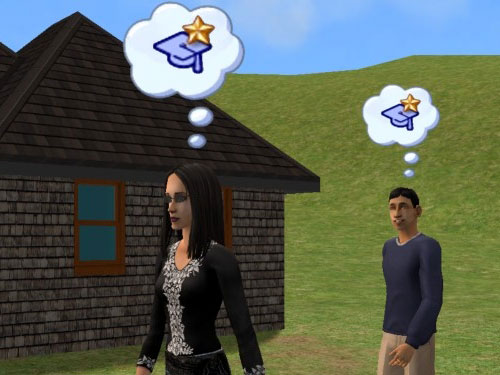 The Welcome Wagon.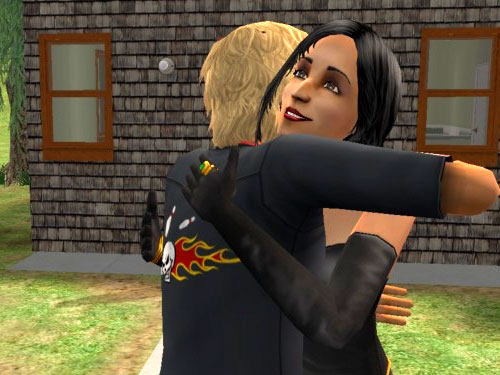 George particularly enjoyed Madeleine's company.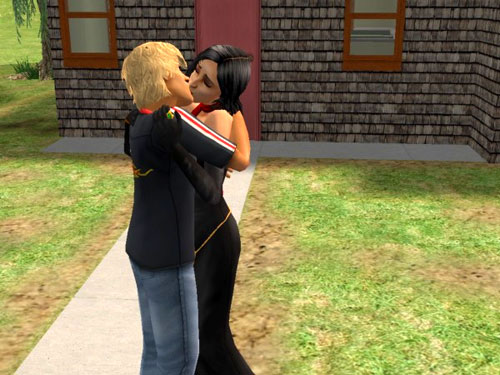 A fond farewall.
One reason for all the socializing was that it took him several days to find a job that would advance him in his desired career (bowling coach, of course).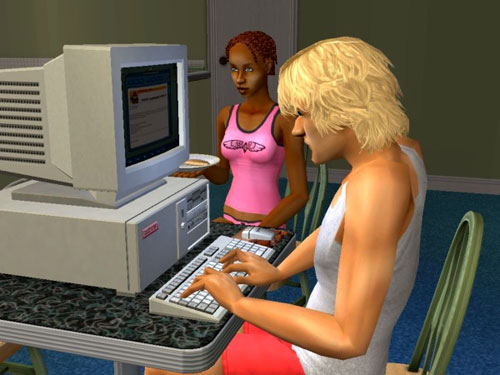 He did finally succeed.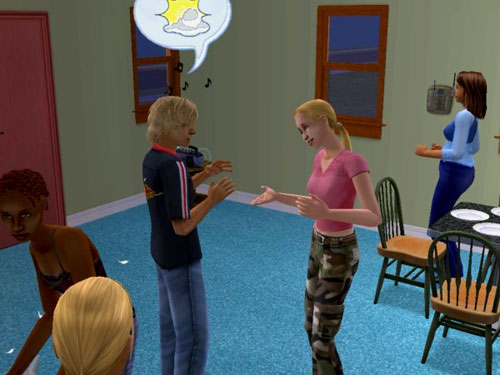 Yet another party.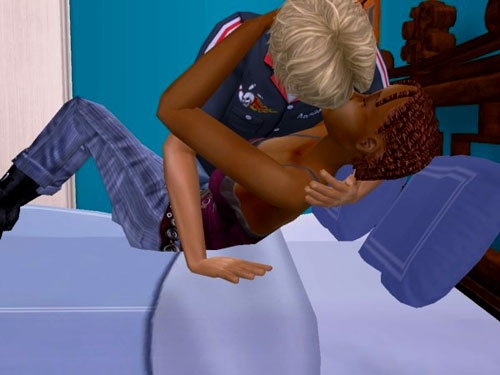 And there was always Sheila.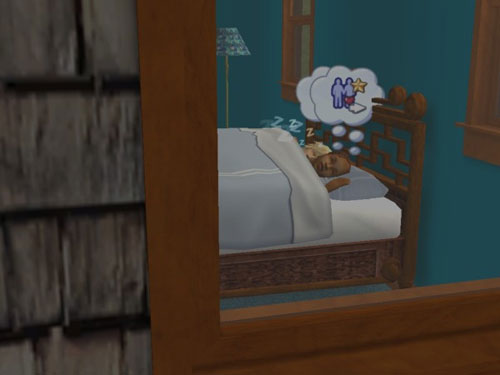 He loved their dates, and she liked having an off-campus lover.
More random snapshots from life.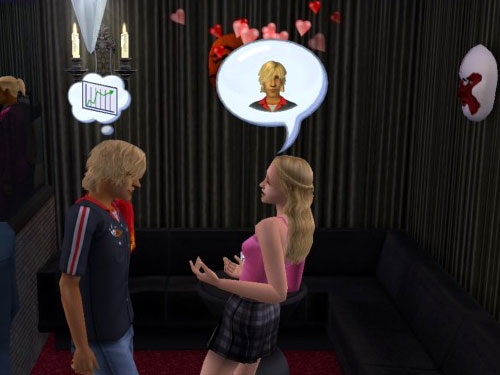 George at play: The Crypt o' Night Club.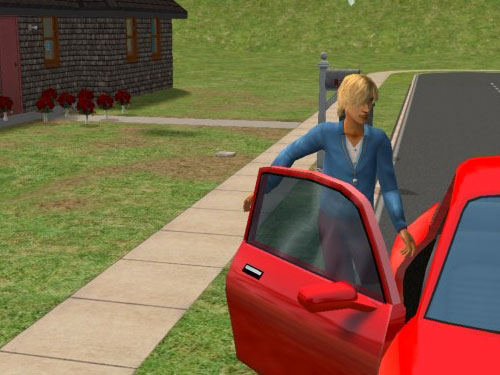 George at work: Assistant Coach of the Bowling Team.
One day Madeleine Phillips stopped by.
"Can I hang around here for awhile, George? I need a nice quiet place to, um, meet someone."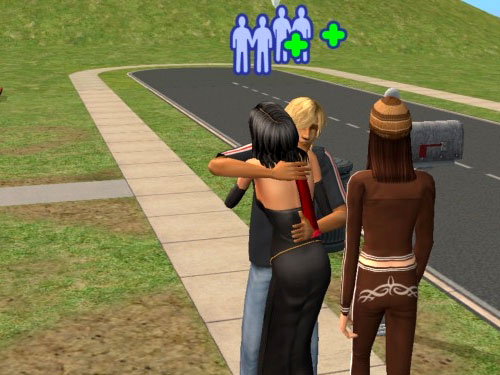 "Sure, stay as long as you want!"
Madeleine went right to the phone.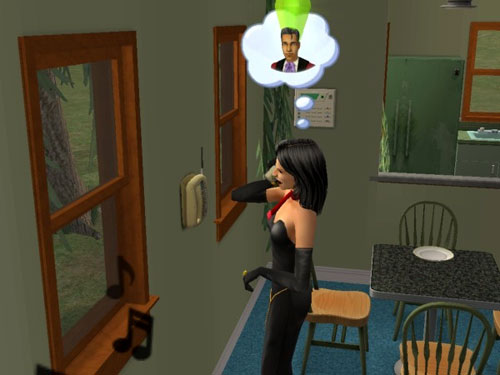 Calling Mr. Big.
A little while later, a slickly-dressed character showed up, and began primping out by the curb.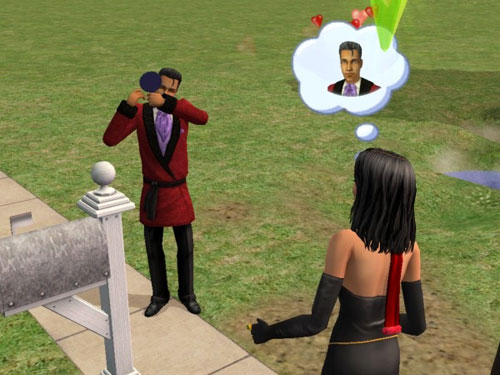 "What a man!"
Madeleine's wealthy grouchy heart was all aflutter. She knew he was interested, that they were as compatible as could be (three bolts for each other, in fact!), but still; it was utterly unlike, say, buying a pair of shoes.
"Komei, darling, would you consider..."
"Consider...?"
"You know 107 Custer Boulevard?"
"Oh, yes, lovely place. I hear it's on the market."
"I put in an offer on it this morning --"
"Ooh, congratulations!"
"-- and I thought, it's awfully large, and maybe if you're as tired of the hotel as I am..."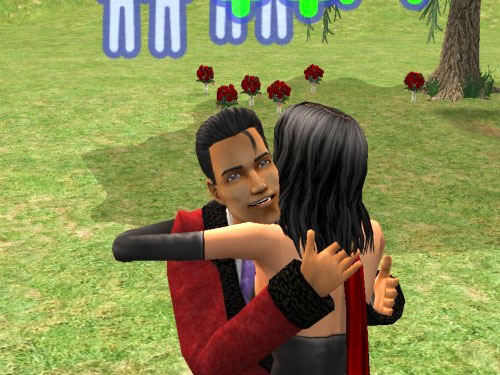 "Why, it would be an honor, my dear!"
Madeleine and Komei were grateful for George's hosting of their happy union, but they didn't plan to leave him all their lovely assets when they headed back Downtown together.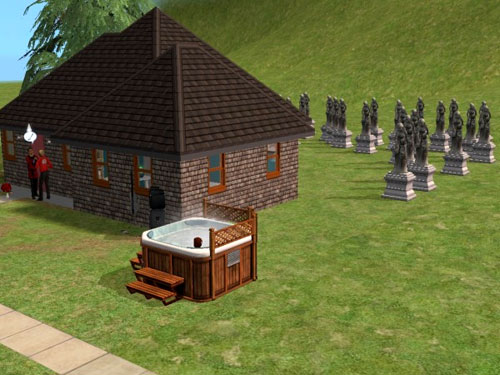 So we did a bit of object-shuffling.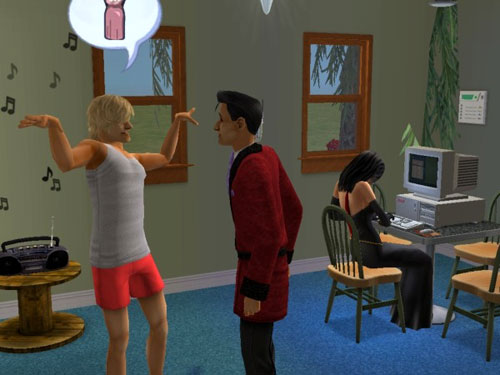 Madeleine schedules the closing on the new house.
And the new couple were off.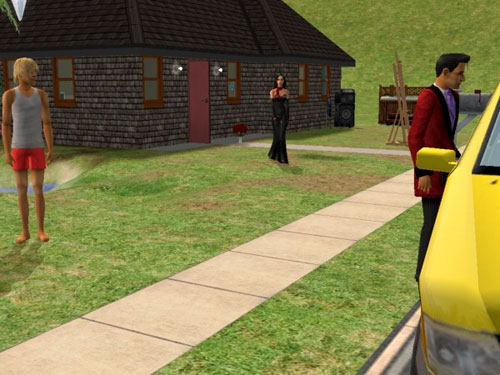 "Glad you could stop by!"
On the way to the closing, Madeleine and Komei stopped in the park for a toast.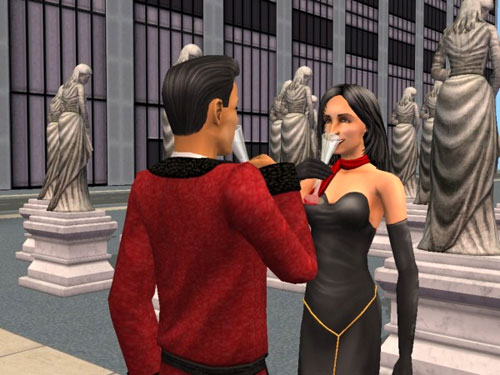 "To us and our good fortune."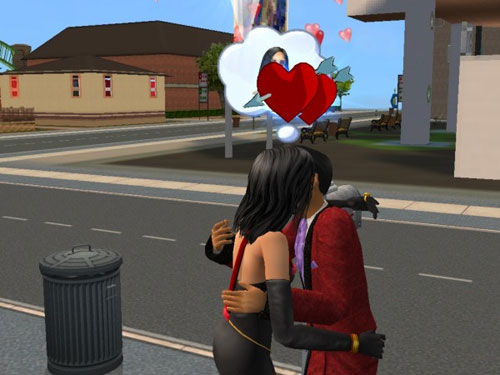 So this is love.
The closing was uneventful (involving just half a dozen mouse clicks), and the couple immediately took possession.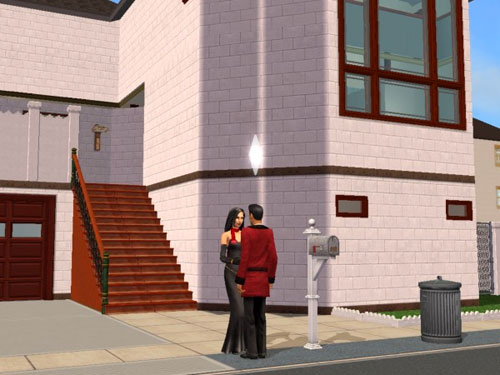 107 Custer Boulevard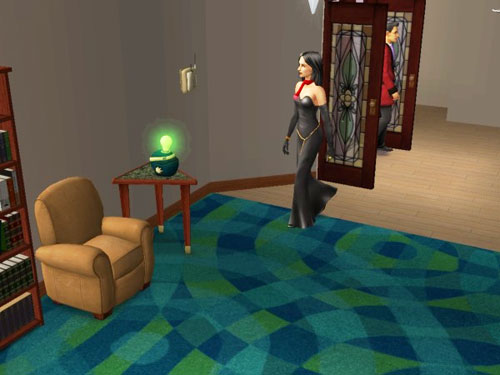 Nice interior. Needs some wallpaper and carpets, a little art...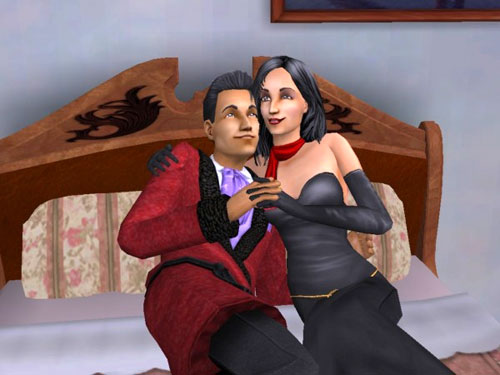 "I think we're going to be very happy here."
Awwww!
Considerably more than that has happened, but that's enough posting for one night...