Gina's College Years
Part I
(Probably because she's my first Sim through college, and/or because I'm besotted with her, I took about a zillion pictures of Gina Raptor's college career. I won't post more than about fifty of them here, though, so as not to bore you. *8) It will be overwhelmingly obvious from this story that Gina is a thoroughgoing Romance sim; whether this is a matter of predation or generosity is left to the reader to decide.)
The Raptors were quietly proud; little Gina was going to be the first teenager from the neighborhood to attend Sim State University, which had just recently sprung into being.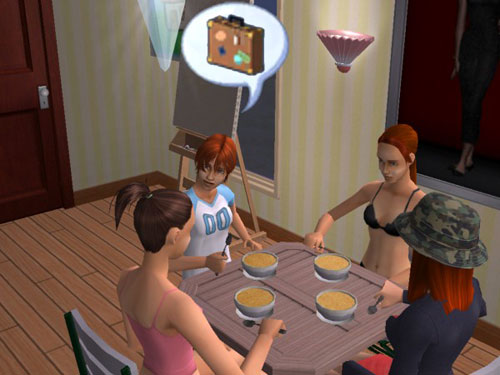 "Yep, Aunt Brandi, I'm all packed. But my suitcase looks nothing like this."
Eleanor went with her to the taxi.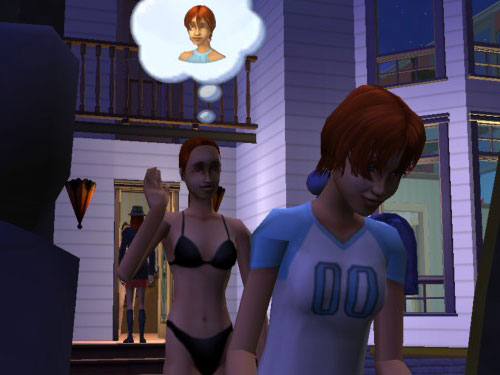 The cool air, the sound of the taxi engine, reminded Eleanor of the night Kaylynn left. Two such different poignancies.
And she was off.
Yep, she went off to college in her "00" PJs. Perfectly normal.
She arrived at Sim State half grown-up, striding confidently into the dorm. (The Raptors aren't particularly rich, or particularly thorough about skills and scholarships and stuff, so starting in the nice cheap dorms was the only option. It turned out especially nice financially, since no bills arrived the whole time Gina lived there. Very mysterious.)
For a change I really like the default clothes she got. Nice whispy overshirt, long-legged jeans.
She made friends quickly, sitting around the dorm cafeteria, talking about life and the future.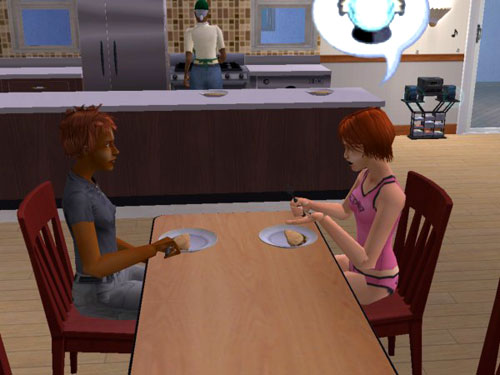 Like her default undies, too; very cute!
She launched right into her studies, and arranged serious one-on-one work sessions with her professors.